5 best Email Marketing Software for 2023
Launching and running a marketing campaign is much more difficult than ever before. Marketing automation is integrating all marketing activities into one automatic system, therefore, marketers and business owners could manage the activities efficiently and easily.
Marketing automation uses software to automate monotonous marketing work. Marketing departments can handle email marketing, social media posting, ad campaigns, and others not only in a clever way but also to provide a personalized experience for customers.
There are many technologies supporting Marketing Automation. In this article, we particularly discuss Email marketing software. We will introduce the best Email marketing software in the market now and how Piotnet Forms support the tools.
Mailchimp
The most known, the most popular, and the best overall. Mailchimp is not designed for specific email marketing functions but generally covers most businesses' needs. It is easy to use basic and not overly complicated. All-in-one is a good word to describe Mailchimp.
Mailchimp is a freemium software, they offer a feature-rich free plan which gives you access to most of their available tools. Landing page builder and built-in Survey market are among the best free tools of Mailchimp. If you are running a personal business or SMB user, Mailchimp's free plan is a great choice. If you are willing to pay, you can just pick the right deal for your need and budget. Many plans are on the disk for your taste, and we consider Mailchimp plans are one of the cheapest for small clients base.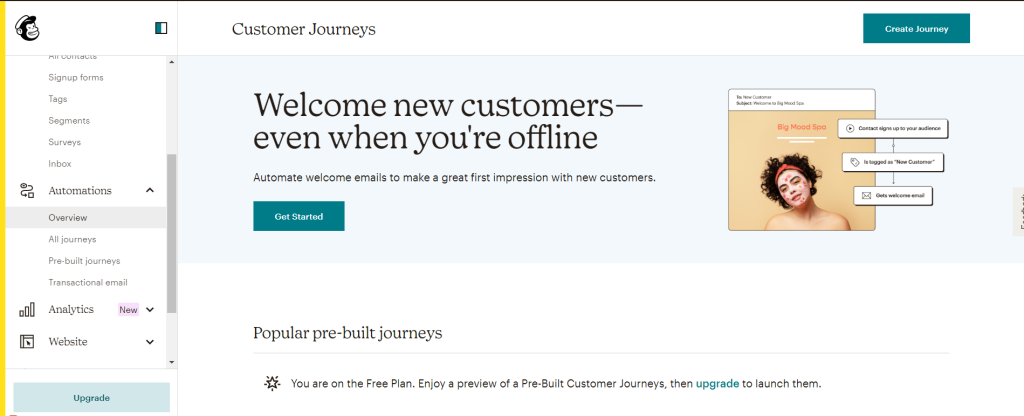 Pros
Many free tools for small businesses
Easy to use and customize campaigns
Massive range of email templates for start
Clean, simple, and powerful template editor
A large user community for learning and sharin
Cons
High cost for paid plans
Not really follow the industry standard
Need to be improved customer support
Overall, Mailchimp is a safe choice for anyone who is looking for email marketing software. If you need a basic and simple way to send emails, start with Mailchimp. Personally, we also really like the charming monkey-fied aesthetic.
In Piotnet Forms, we created a deep integration with Mailchimp. You can easily set up a form that will collect and send data to your Mailchimp account: Piotnet Mailchimp Integration
ActiveCampaign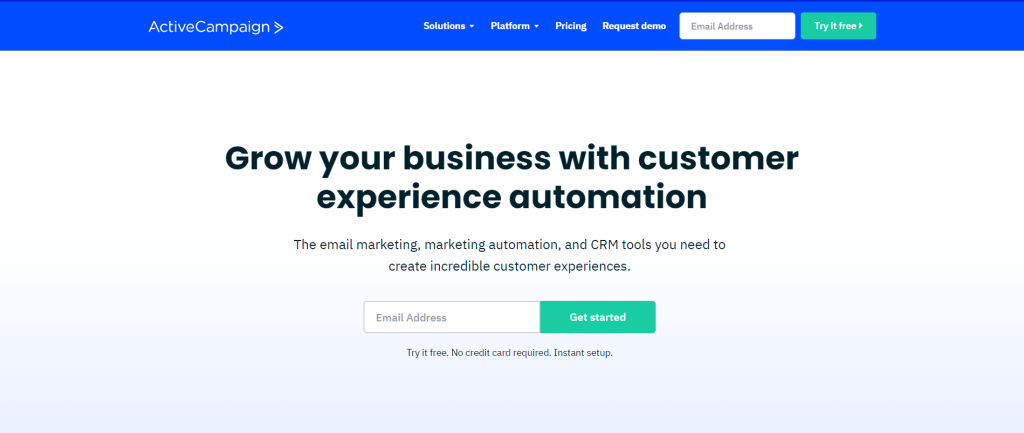 The tools have hundreds of pre-built automation that help you personalize campaigns for each subscriber, which is very powerful. We can say marketing automation is where it shines. Do every automation you ever dreamed of.
As Mailchimp is suitable for starters, we can say that ActiveCampaign is the choice for more advanced users. ActiveCampaign is a more powerful platform with a broader range of features, so it would take a little bit of time to learn around. We can say the Interface is not as friendly for beginners as MailChimp, but if you could invest your effort in more complicated functions, this is the choice.
A minus point for ActiveCampaign is it does not provide a free plan; therefore, you must spend some buckets to start experiencing the platform.
Pros
Features rich and powerful solution
Well-built for advanced and depth support for marketing automation
Great email deliverability rate
Good for personalized campaigns, Tagging customers dependent on engagement and interests
Cons
No free plan for the experience
Not suitable for email marketing beginners, you need to spend time learning around
The interface could be a little more user-friendly
With all the pros and cons, we suggest you use ActiveCampaign only if you are willing to dig deep into email marketing. Mastering all tools of ActiveCampaign is a way to become a pro.
In Piotnet Forms, ActiveCampaign is integrated. Just take a try: Piotnet ActiveCampaign Integration
GetResponse
In short words, GetRepsonse is an all-in-one solution for eCommerce businesses. GetResponse provides email marketing, but it isn't just an email marketing platform. Using the software means you are managing all your Conversion Tunnel and Customer Experience flow in one place.
GetResponse provides a website builder, chat features, eCommerce features, webinar hosting, landing pages, and automated sales funnels. It is not easy to find some features which the platform does not support. Compared to Mailchimp and ActiveCampaign, GetResponse is more of a solution for eCommerce businesses with customized tools. We also like the UI of the software, which step-by-step lead you to finish your campaigns easily.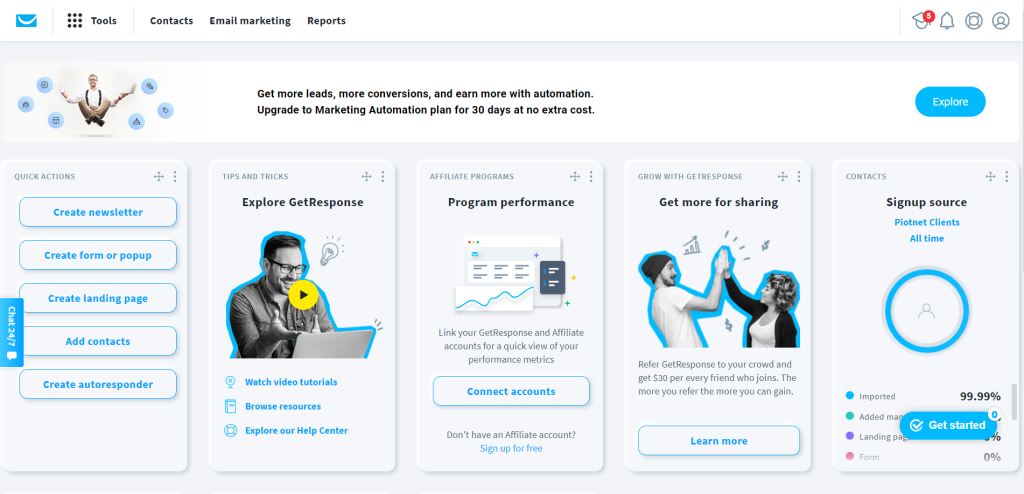 Pros
Generous free-trial plan
Well-structured tools for all of the business circle
Advanced marketing automation features
Suitable for scaling, supports both small and large businesses
Cons
Zapier is required for many integrations tools
Deliverability rates could be improved
Email list importing is sometimes complicated and struggles for unclear reasons.
In conclusion, GetResponse is a solution for Marketing Automation in general (not only email marketing). In case you only need email marketing particularly, we suggest not using GetResponse. But if you are looking for a consistent solution for your conversion tunnel, the software is worth it.
Here is how to use GetRepsonse with Piotnet Forms: Piotnet GetRepsonse Integration

MailerLite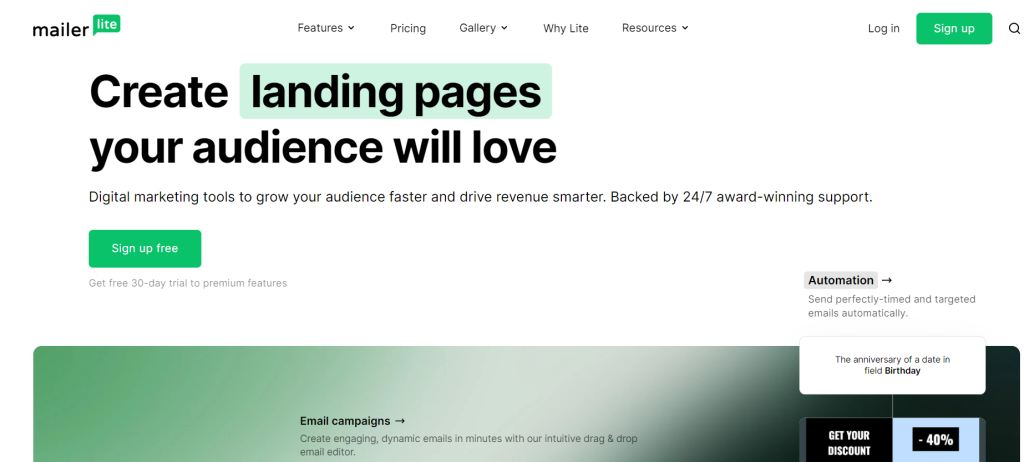 Just like its name: it is for sending mass emails in a modern, neat, clean and simple way. The software is relatively new in the market, and you can feel the young energy in the design and user interface.
MailerLite focuses on an easy, fast, and convenient way to send emails. If you are tired of complicated email senders, MailerLite can be your option. However, it is not the best option for complicated campaigns and functions.
Personally, we would recommend MailerLite if you are a small business owner, freelancer, blogger, or a newbie in email marketing.
Pros
Easy to use
Features rich free plan
High rate of deliverability
Light user feeling

Cons
Lack of advanced and complicated features
Small templates library
MailerLite is also integrated in Piotnet Forms: Piotnet Forms MailerLite Integration. You can use Piotnet Forms to collect and send data to your MailerLite campaign.
Sendinblue
In short, Sendinblue is a fit-for-budget email marketing platform. The team focuses on bringing as much value as possible at a limited price.
Unlimited contacts is the first impression of any user with Sendinblue, it is how Sendinblue establishes its value. This platform offers unlimited contacts and email lists on any plan you choose.
We consider Sendinblue the best choice for small businesses.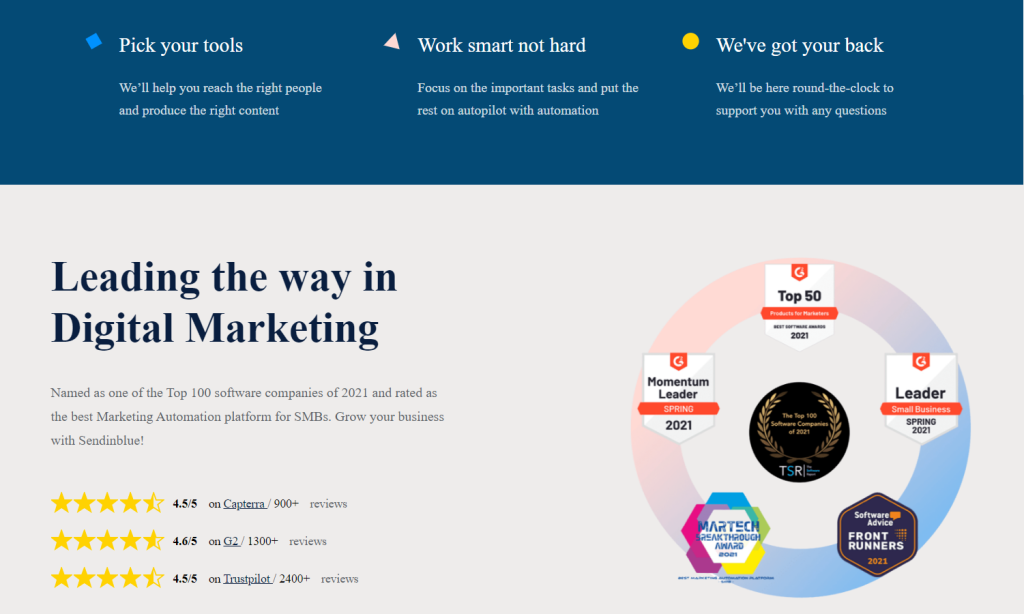 Pros
Worthy price plans
Provides WordPress Plugin
Unlimited contacts
Great support
Cons
Lack of amazing features
The UI/UX could be improved a little more
If you are not a big business and need something on a budget, worth your money, we really recommend Sendinblue. In Piotnet Forms, we also integrated Sendinblue so you can use the tool with our forms: Sendinblue integration
Piotnet Forms is a form builder WordPress plugin. We help users to build complicated forms in a fast, light, and easy way. In Piotnet Forms, besides the five email marketing tools above: Mailchimp, ActiveCampaign, Getresponse, MailerLite, and Sendinblue, we also integrated many others: Constant Contact, Hubspot, Mailpoet, Sendfox, Sendy, and Twilio.